Many have already written off Solana, but the blockchain activity on the network is growing. This trend has resulted in the price of SOL hitting a two-month high.
On-chain activity on the Solana network is showing signs of recovery. By data analytics platform Messari, transaction and active account volumes returned to October 2022 levels, and the number of active addresses rose to 240,000.
Solana returns to previous performance
According to Solscan, the network throughput is currently around 3,735 transactions per second (TPS). In total, 132 billion transactions were carried out on the network. However, the charts show a sharp decline in transaction success on January 12th. This may indicate that the network is again suffering from performance issues.
The cost of the Solana NFT ecosystem is also returned to previous levels and reached $470 million.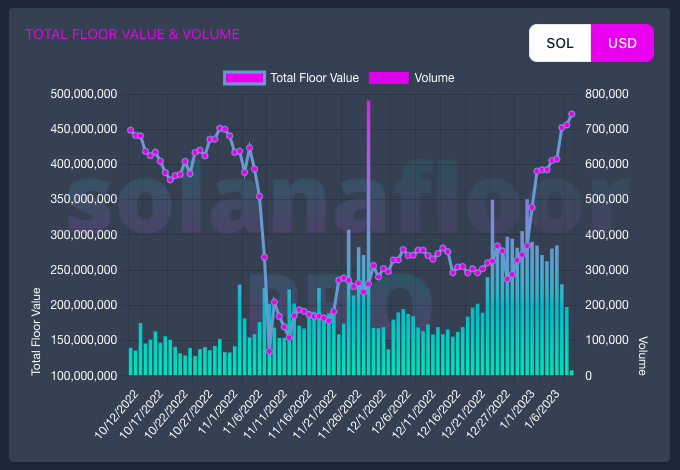 Coin98Analytics informsthat Solana ranks fourth in terms of the number of active addresses in the last week.
The increase in activity is largely due to the BONK memcoin airdrop, the price of which fell by 80% in a week. On January 12, Solana co-founder Raj Gokal attempted protect your brainchild on Twitter:
"I think we can forget about it and get back to serious thinking about how to take advantage of the insane network performance and battle-tested infrastructure," he wrote.
What happens to the price of SOL
At press time, SOL is trading at $16.05. A few hours ago, the price of the token was approaching the $17 mark, but could not overcome the resistance.
SOL quotes have already fallen by 93.7% from their all-time high, so the path to recovery will be long.
Stay in touch! Subscribe to CryptoNewsHerald.com at Telegram.